Protein + Pre-Workout Bundle
Impressive results are inevitable when you can unlock better workouts and faster recovery. Feel the fatigue-fighting difference of Ladder Pre-Workout, and upgrade to Ladder Protein for the optimal amount of BCAAs and EAAs to help you refuel and recharge better than ever.
---
Shaker Bottle
Our double-walled stainless steel signature shaker bottle is designed to mix evenly and hold its temperature. A fan favorite that keeps your drink cold for up to 24 hours.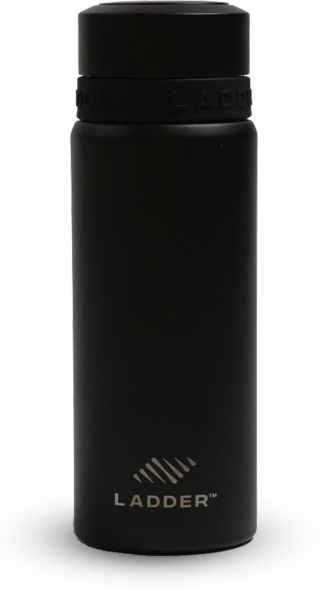 Naturally Delicious
Gluten Free
Soy Free
No Artificial Sweeteners
Designed with purpose and sweetened by nature. We perfected the formula for creating supplements you'll enjoy by using real flavors and avoiding all artificial sweeteners and colors. We only source premium ingredients, which results in a cleaner powder you can easily mix without a blender. Taste the difference your body will appreciate every time.
Rigorously Tested
Supplement companies are not required to test their products and FDA regulation is limited. At Ladder, we invest in the certification you must earn: NSF Certified for Sport. This third-party — which is trusted by all the major professional sports organizations, such as MLB, NHL, NBA, and the NFL — requires you to test every batch of product to ensure that each serving of powder is free of banned substance, contains no dangerous levels of toxins or metals, and it verifies that the labels are accurate.
Reviews
Here's what people are saying about our Protein + Pre-Workout Bundle.
Reviews
Here's what people are saying about our Protein + Pre-Workout Bundle.
Quick boost when you need it the most.
Quick boost when you need it the mostBeen working out on a Peloton for a few months and needed something to help me push harder. This did the trick hitting new PRs over and over again!
Tried and never looked for other.
Once I received and tried the product, never looked for others. Taste great and experienced results in 3 days. Love the product, and the customer service is excellent!
Works great.
Both the protein and pre-workout tasted great. I felt added energy from the pre-workout and didn't get a gut ache like I sometimes do from other pre-workout drinks. The packaging is great for travel or just always having it with me when needed.