Complete Bundle - Whey Protein
Complete Bundle - Whey Protein
Maximize higher performance. We've considered everything your body needs before and after your workout to optimize your training and recovery, as well as a super-nutrient boost to protect your health and charge your immune system.
---
We use a combination of ingredients identified by the International Olympic Committee to boost performance. Our pre-workout reduces fatigue (with natural caffeine from green tea), boosts the natural production of energy, flushes fatigue-causing toxins, improves endurance and strength, and helps you feel locked in and focused.
All whey proteins are not created equal. We source the highest quality whey and milk protein isolate, which is loaded with all the essential amino acids (EAAs) and branched chain amino acids (BCAAs) your body needs, without added fat, carbs, or lactose. Plus, we add probiotics to improve absorption and boost your immune system.
Meet the perfect mix of some of the healthiest foods in the world. The combination of broccoli sprouts, spinach, matcha, barley grass, and rhodiola provides the exact ratio of essential vitamins and minerals to upgrade overall health and protect you from daily work-life stress and exercise exhaustion.
Shaker Bottle
Our double-walled stainless steel signature shaker bottle is designed to mix evenly and hold its temperature. A fan favorite that keeps your drink cold for up to 24 hours.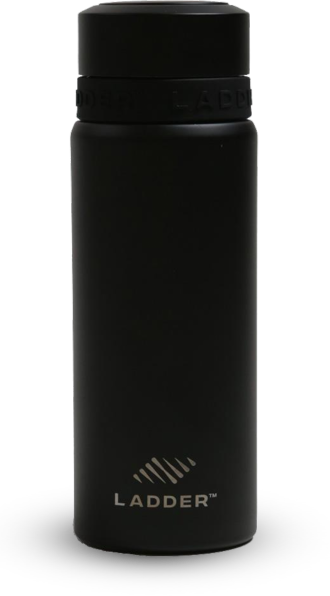 Naturally Delicious
Gluten Free
Soy Free
No Artificial Sweeteners
Designed with purpose and sweetened by nature. We perfected the formula for creating supplements you'll enjoy by using real flavors and avoiding all artificial sweeteners and colors. We only source premium ingredients, which results in a cleaner powder you can easily mix without a blender. Taste the difference your body will appreciate every time.
Rigorously Tested
Supplement companies are not required to test their products and FDA regulation is limited. At Ladder, we invest in the certification you must earn: NSF Certified for Sport. This third-party — which is trusted by all the major professional sports organizations, such as MLB, NHL, NBA, and the NFL — requires you to test every batch of product to ensure that each serving of powder is free of banned substance, contains no dangerous levels of toxins or metals, and it verifies that the labels are accurate.